Located near the busy intersection of Georgia and Granville Streets, the Vancouver Block is a striking Edwardian Commercial building topped by a large clock tower and finished with ornamental terracotta. A landmark on the Vancouver skyline since 1912, the 15-storey building was commissioned by the wealthy Dominic Burns and designed by the architectural partnership of John Parr and Thomas Fee, one of the city's most prolific firms. On its completion, Burns moved into a specially commissioned two-storey penthouse beneath the clock where he lived until his death in 1933.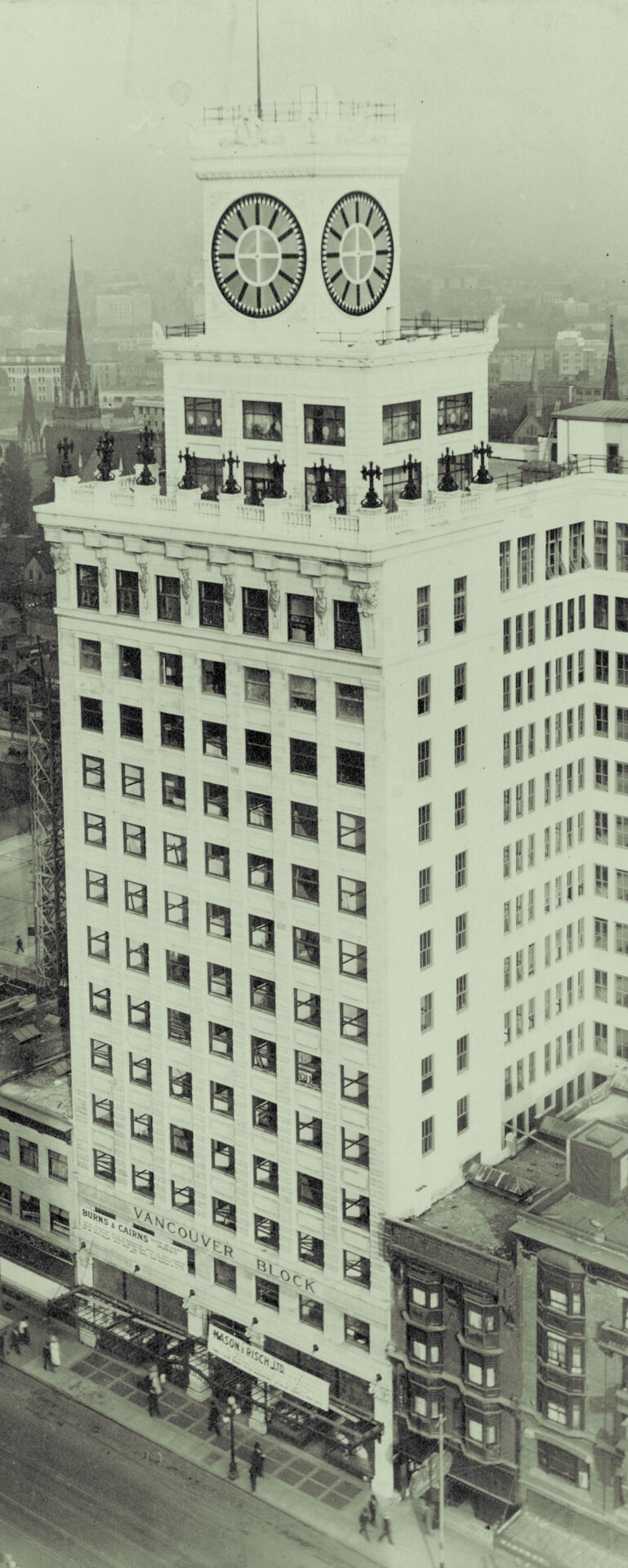 Following Burns' death, the building was purchased by Samuel Zacks, a Toronto businessman, who in turn sold it three years later to a local consortium. It was purchased by Equitable Real Estate in the 1950s for $1.3 million. Equitable continues to maintain and preserve the building's unique character and Burns' historic legacy, including restoration of its lobby to its original 20-foot height in 2006 and ongoing repairs to its façade and clock components. The building's retail and commercial office space have been in continuous use throughout its lifetime.
In 2006, the City of Vancouver Heritage Conservation program recognized the building as a Type A historical property:
"The heritage value of the Vancouver Block lies in its location near the intersection of Granville and Georgia streets in downtown Vancouver, as a symbol of the Edwardian optimism and rapid growth in Vancouver's economy and urban fabric in the early twentieth century, in its association with the architectural firm of Parr and Fee, in its landmark status, and in its unique representation of the Edwardian Commercial style.
"Constructed between 1910 and 1912 on the highest point of land in downtown Vancouver, the building is valued as an example of the city's pre-war economic expansion and building boom. Rapid population growth during this period stimulated widespread construction in Vancouver. In the late 1890s, Canadian Pacific Railway executives encouraged business leaders to settle on company land, putting its stamp on Granville Street as the most prestigious location in the city for commercial buildings. As the centre of city activity shifted from Pender and Hastings Streets to Granville Street, the Vancouver Block helped to establish the intersection at Georgia and Granville as the commercial core of early Vancouver." (Source: Canada's Historic Places)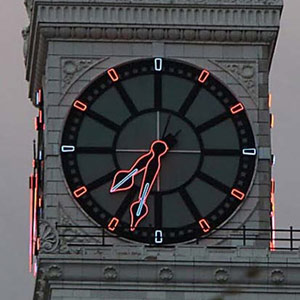 The Vancouver Block is beloved by Vancouver residents for its illuminated clock face, visible from all four sides. The building and its iconic clock tower has been the location for films such as Malone (1987) and Mission Impossible: Ghost Protocol (2011).
PERSONALITIES
Dominic Burns
Born in Ontario, Dominic Burns moved west with his brothers John and Patrick in 1878. Eventually helping with the expansion of his brother's meatpacking business, Patrick. P. Burns & Co., he managed the firm's Yukon interests, before moving to Vancouver in 1903 to take on the British Columbia arm of the company. The family enterprise went on to become Western Canada's largest meatpacking company, with ownership of 700,000 acres of ranch land.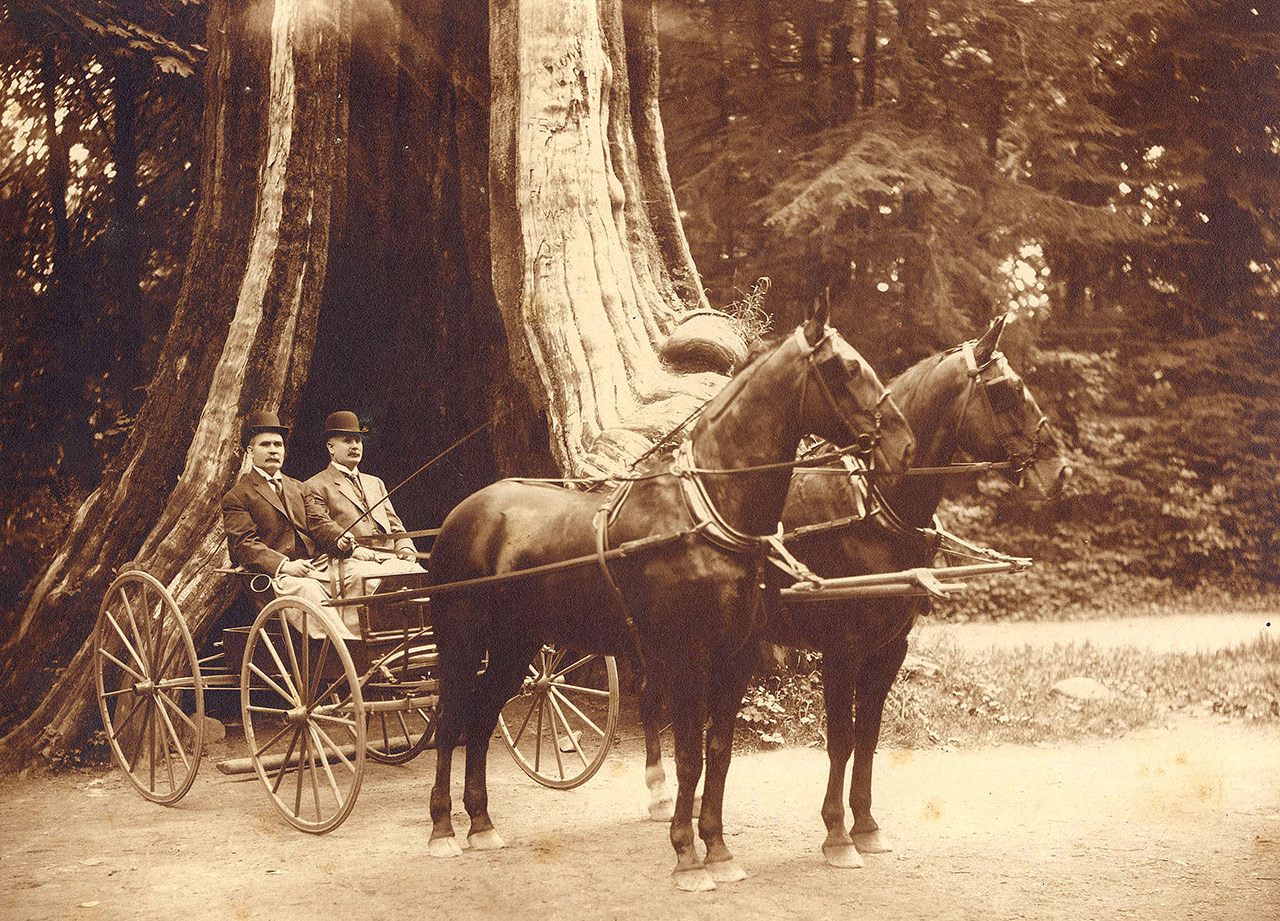 Above: Dominic and Pat Burns in Stanley Park; below: Patrick Burns (photos public domain).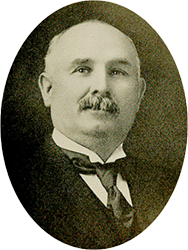 Burns owned a large farm in Delta and purchased the "Great Delta Bog" (now Burns Bog) in 1906 for $26,000 with the aim of clearing it to raise cattle. However, the venture failed when the cattle kept getting stuck in the soggy ground.
In 1907, he oversaw the construction of Burns Foods' first slaughterhouse in Vancouver. Torn down in 1969, the man in charge of the demolition reported that it was the toughest building he had ever destroyed, with brick walls measuring 14 inches thick. Burns also constructed the unique triangular-shaped building at 18 West Hastings Street as his regional head office and one of several retail outlets in the city at that time.
In 1910, Burns began construction of the Vancouver Block, which included a two-storey penthouse, which he moved into upon completion of the building in 1912, and lived until his death in 1933. Unlike many businessmen of his time, he managed to weather the financial depression of the decades after 1913 and possessed one of the largest estates left by pre-1914 business leaders at the time of his death.
The Partnership of Parr & Fee (1899 – 1912)
John Parr and Thomas Fee were architects – in terms of the number of buildings erected at the turn of the twentieth century, they were the architects in town. They were responsible for designing over a hundred buildings, getting commissions in both the more established parts of town (with many buildings on East Hastings Street) and on the newly emerging Granville Street. They designed the Hotel Europe, the Dunsmuir Hotel and the Vancouver Block, among many other buildings.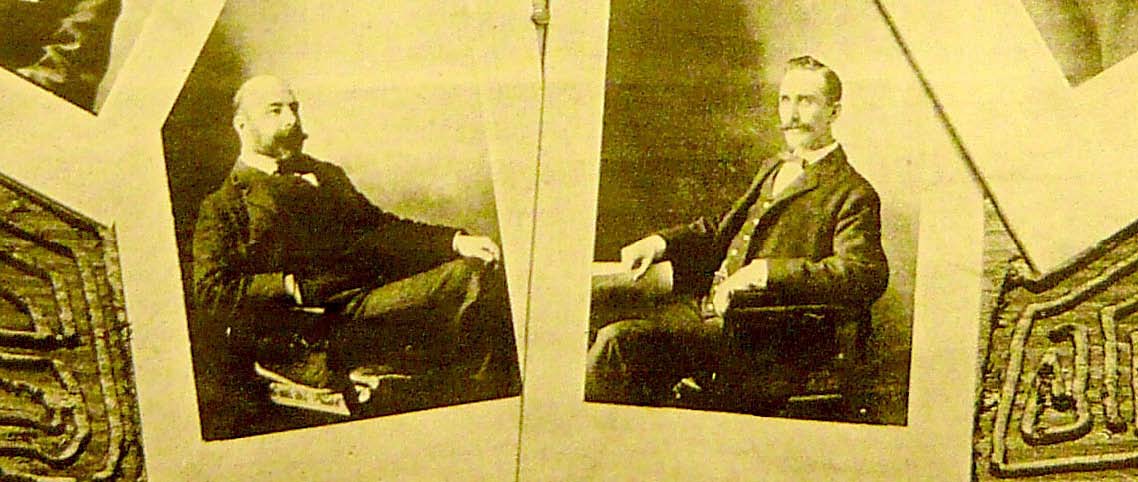 Above: John Parr and Thomas Fee; below: Parr & Fee Architects newspaper ad (photos: public domain).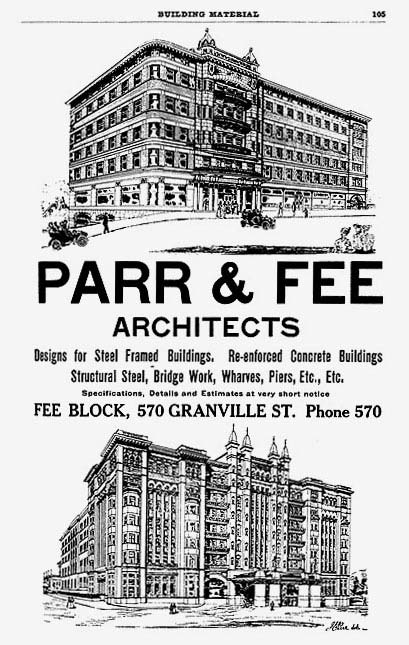 In the 1891 census John Parr was an architect, resident in Victoria, while Thomas Fee was married and living in Vancouver. Both Fee and his wife were born in Quebec. According to a profile in Building the West, edited by Donald Luxton, Fee had arrived in Vancouver with no money on the first train to arrive in Port Moody, walked to Vancouver and worked as a contractor and then studied architecture in Minneapolis for a year in 1889. Parr, who was born in Islington in London into an architectural family, arrived in America in 1889 and moved to Vancouver in 1895, immediately designing several commercial buildings
In 1895, Parr and Fee went into partnership designing buildings such as the Ralph Block on Hastings Street, as well as many houses. By the early 1900s the partnership was amazingly successful. Many buildings on Granville Street were being constructed simultaneously. Fee was also an investor in real estate and owned and developed a number of buildings himself. However, in stark contrast, Parr is not listed as an owner in any of the building permits.
While still receiving numerous commissions, the partnership split up in 1912 (although a few buildings were not completed until the following year). John Parr went into partnership with John Mackenzie and John Day, and managed the completion of the Vancouver Block. Parr designed many more buildings over the next six years until Day withdrew in 1918. Parr's last known project was an apartment building on Beach Avenue completed in 1923, the year he died.
Thomas Fee also continued to practise, often designing improvements to his property portfolio. He was against Canada's involvement in the Great War and spent much of the early 1920s in Seattle. He died in 1929.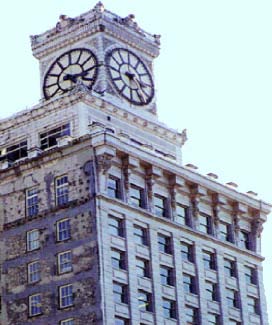 Architectural firm Parr & Fee commissioned to design Vancouver Block.
November 10: City of Vancouver issues water permit
January 23: City of Vancouver issues building permit
Terracotta shipped from Lincoln, California, by Gladding, McBean & Co.
February 18: catered luncheon held in the clock tower for twenty businessmen to celebrate the completion of the building's steel framework
Parr & Fee Architects split ways; building completed by new partnership of Parr, McKenzie & Day
July 12: official opening of the Vancouver Block
December 6: Vancouver Block clock stopped by the M7 Vancouver Island earthquake, measuring VII (very strong) on the Mercalli intensity scale
Neon illumination added to clockface – the first neon lighting erected in Vancouver
December 19: Dominic Burns dies
Burns' estate sells Vancouver Block to Samuel Zacks of Toronto for $1,000,000
Vancouver Block is sold to a consortium for $1,355,000
June 23: Vancouver Island's largest historic earthquake with a magnitude of 7.3 event stops the Vancouver Block clock
Vancouver Block purchased by Equitable Real Estate for $1,281,000
Designated as a historic structure under the Vancouver Charter
Neon illumination on clockface restored
September 12: City of Vancouver awards the Vancouver Block Type A heritage status
January 13: listed on the Canadian Register of Historic Places
Orbis Architecture Inc. receives Vancouver Heritage Awards Award of Merit for its work on the Vancouver Block
December 10: 100-year anniversary celebration, with current and past tenants in attendance
Façade repair and preservation begins on the northeast elevation of the building
Repair and preservation of signature clock undertaken under the supervision of Vancouver horologist Ray Saunders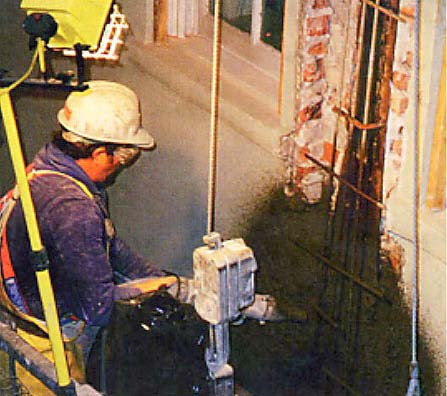 Above: The application of shotcrete from a swing stage.
Right: The use of swing stages and scaffolding during the rehabilitation works.